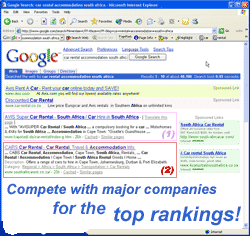 The continuous marketing of your business is imperative, not only to remain ahead of your competition, but to expand into new markets locally and overseas. The Internet provides businesses with an extremely cost effect and effortless method of national and international marketing. This is only achieved by the effective promotion of your web site. This is called Search Engine Optimisation (SEO).

Ashihara Online offers companies endless opportunities by promoting your web site, making sure, that when potential customers search the web, your web site is one of the easiest to find.
Have you ever wondered how your potential customers will find you on the Internet? All you have to do is to effectively register your web site on Search Engines and by having the right keywords and keyword phrases relevant to the site's content, your site should page appear in the top ten matches and/or in the first two or three pages
Ashihara Online registers your web with the Top Search Engines World Wide, this includes search engines such as:

Google

Ananzi

Bing

Alexa

Altavista

AOL Netfind

Excite

Hotbot

NorthernLight

All the Web

Overture

Ask Mr Jeeves

Infoseek and more.
Keyword Monitoring and Rankings
We will endeavor to get your site listed into page one of search results, for certain keyword phrases per web page(s), of your choice, as well as building additional keywords into meta tags of your website code, for Ananzi, Aardvark, funnel, M-web, Aardvark, Google, Yahoo and MSN. We will also obtain front page listings on some other search engines relevant to your chosen country or geographical area.
We also provide feedback, on the following:
Website traffic

Inbound links to your website

Rankings per search engine per key phrase

Recommendations on improving and enhancing of your current strategy.